Nothing hits the spot like a classic burger, thick and juicy, piled with toppings, or covered with cheese.
Burgers and fries are the perfect vacation food! A lot of Branson, MO restaurants serve the classic American meal. We have compiled a list of local favorites to help you choose the ideal place for the best burger.
When it comes to satisfying your burger cravings, Branson boasts many delightful options that will leave you craving more. This charming town is a burger lover's paradise, from classic American diners to gourmet eateries. Join us as we embark on a flavorful journey to discover the best burger joints in Branson, where juicy patties, delectable toppings, and warm buns combine to create a truly unforgettable dining experience. Get ready to sink your teeth into some of the city's most delicious burgers.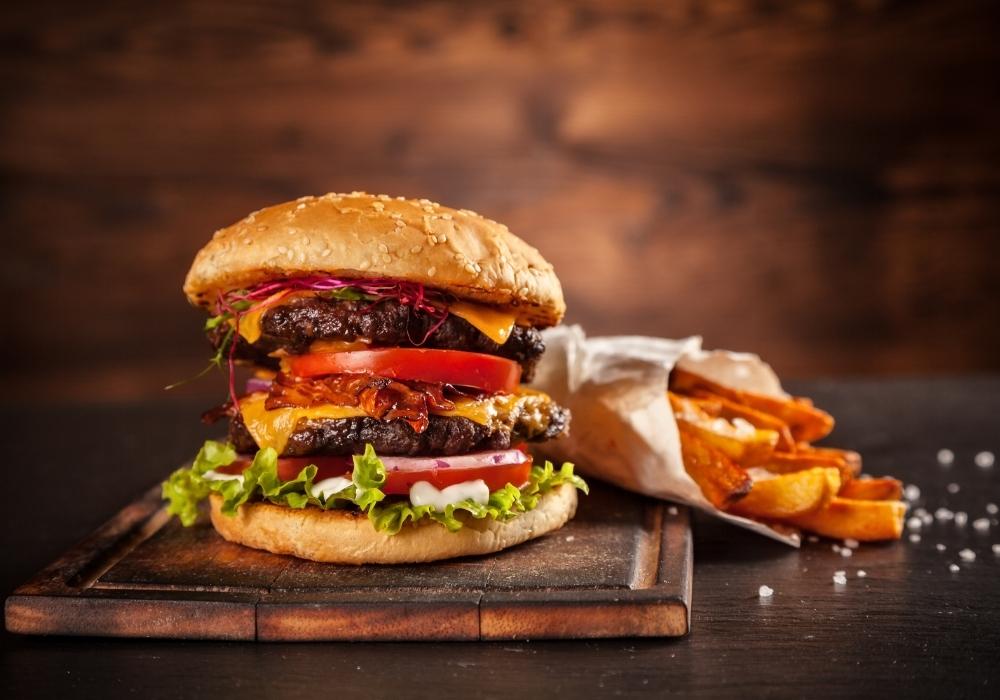 1. Billy Bob's Dairy Land
This 1950s diner serves burgers, onion rings, milkshakes, and house-baked pies in Branson, MO. You'll remember your childhood with these classic diner burgers and traditional sides.
2. Downing Street Pour House
You will find burgers like their Black & Bleu, caramelized onions, blue cheese, bacon, and blackberry sauce, or their H.A.F.B sriracha mayo, micro greens, smoked gouda, bacon, avocado butter, soft fried egg, a local favorite.
3. Danna's BBQ and Burger Shop
Danna's burgers are unmatched among locals, and the barbecued meats are equally delicious. A favorite is the Danna Burger, which comes at a 6-ounce patty on a toasted bun and is topped with cheese, chopped pork, lettuce, tomato, pickle, and BBQ sauce. You won't be disappointed with any of the burgers on the menu.
4. Big D's BBQ Branson
Big D's has some of the most delicious BBQ and finest fall-off-the-bone ribs, and their smoked burgers are also delicious and flavorful. The Smokehouse Burger is a must-try at Big D's. A smoked burger topped with sliced brisket, cheddar cheese, caramelized onions, and BBQ sauce.
5. Gettin' Basted
American Wagyu Beef Burgers, yes, please. The mOink burger will be a favorite you will want to eat repeatedly. You can't beat American Wagyu Beef, pulled pork, sharp cheddar, BBQ sauce, onionpenos, bacon, and pickles.
6. Scooter's Sports Grill
Scooter's customers have said they have the "BEST BURGER IN BRANSON." Doesn't a bacon ranch cream cheese burger sound amazing? Scooters is a casual restaurant, and you can play a mini-golf round while there.
7. Pickin Porch Grill
Described as a Folksy joint at Branson Craft Mall, They serve burgers like the CHORIZO BURGER, 1/3 charbroiled angus, and chorizo topped with candied jalapenos ~,
onion strings, swiss cheese, and their House Chipolte Lime Aioli. Pickin Porch serves one of the best classic burgers as well.
8. Mel's Hard Luck Diner
The 16-ton chili burger is on my favorite burgers at Mel's. An opened-faced burger on a bun, topped with their delicious chili, melted shredded cheddar. All burgers are a half pound! You won't leave hungry after a visit to Mel's Hard Luck Diner.
9. Fuddruckers
Fuddruckers grill to order. Your burger isn't grilled until you order it. Whether you want it medium or well done, they will cook it how you like it; it's worth waiting! They have been doing burgers since 1980, and visitors come back year after year to enjoy one of their juicy burgers.
You won't be disappointed with any of these fantastic restaurants.
If you are looking to finish off your delicious burger with a milkshake. We are happy to help you out with that. View our top picks for the BEST milkshakes in Branson.
We have wonderful lodging and vacation rentals available. Don't forget to view our Branson Vacation Packages and bundle and SAVE!